Did you know that according to research lighting plays a huge role in improving mood and energy levels? This means that depending on the amount of lighting it can affect your concentration, appetite, focus, and other aspects that set up your daily life. Well, in this article, we gathered 7 stunning kitchen lighting ideas to set up your cooking mood! 
Primary Types of Light Temperature
Before we jump to the list of different kitchen lighting ideas, let's have a quick overview of the 3 primary light temperatures. According to the National Kitchen and Bath Association, the kitchen is the most critical area in your home. It's the place where the most dangerous tasks happen, hence it requires levels of lighting. So it's acceptable to consider installing many-layered lights for the ideal kitchen lighting.
 
Overall, layered lights simply mean mixing and matching different lighting temperatures to give any space more depth. It also applies to the type of integration and layout of the fixture. Unlocking your kitchen's full lighting possibility allows you to utilize your space in more ways than one.
Cool Light (5000K- Above)
Cool light is more on the luminous side of the light spectrum. It's often used for any area that needs to represent the real color of an object. So it is recommended for kitchens, workshops, and more. 
For example, if you need to check out if your ingredients are still good to use for cooking. In this case, lighting helps you differentiate spoiled food that may lead to the possibility of food poisoning. At the same time, using a light that provides real color in the kitchen will help those who rely on visuals while cooking.  
Natural Light (3000K-4900K)
If you're not a fan of "too cool" or "too warm", then natural light is your best pick. Natural light stands in the middle so it won't alter your color perception. It's great to use as kitchen lighting as it's the area with the most critical tasks which involves sharp objects. 
So if you want suitable lighting for tasks that requires intense focus like peeling, cutting, or chopping then it's best to opt for natural lighting.
Warm White Light (0-2900K)
Warm light is recommended if you want to add soft lighting to your kitchen. Although it's usually used for other areas like the living room, it doesn't hurt to add a warm and cozy tone to the kitchen. Especially if you integrate the warm light to accent your cabinets.
To get your creativity flowing, we listed 7 kitchen lighting integrations for you to choose from. Check out our list below: 
1. Inclined Under-cabinet Lighting
As the word 'incline' applies, inclined lighting simply means that it is set at a certain angle. It's a great option if you don't want the under-cabinet lighting directly hitting your counter. It also adds great mood lighting for your kitchen. There are two types of inclined under-cabinet lighting.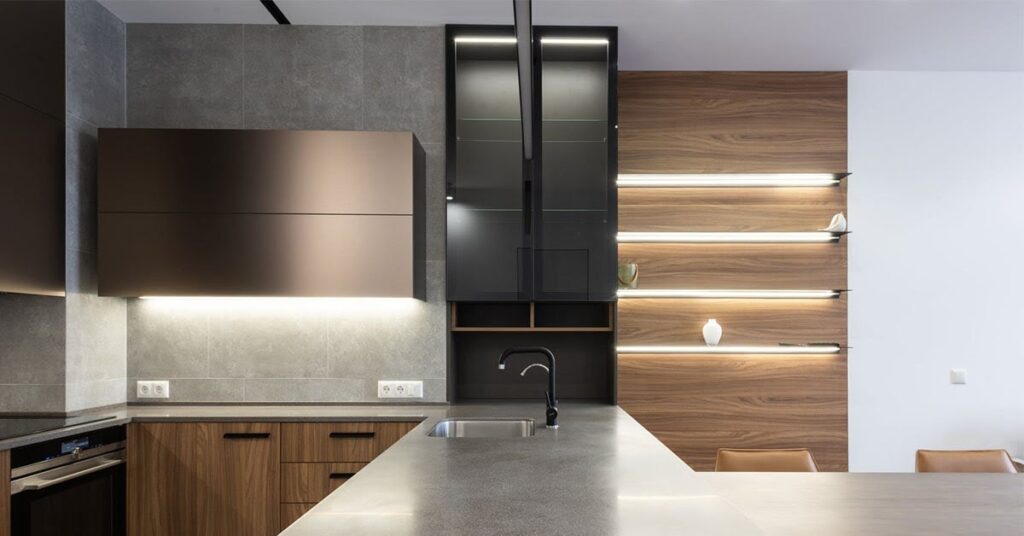 If you want a seamless integration, then it's best to choose built-in LED lighting. Unlike the previous example, this built-in LED light directly hits the counter. So it's ideal to use for your designated work counter.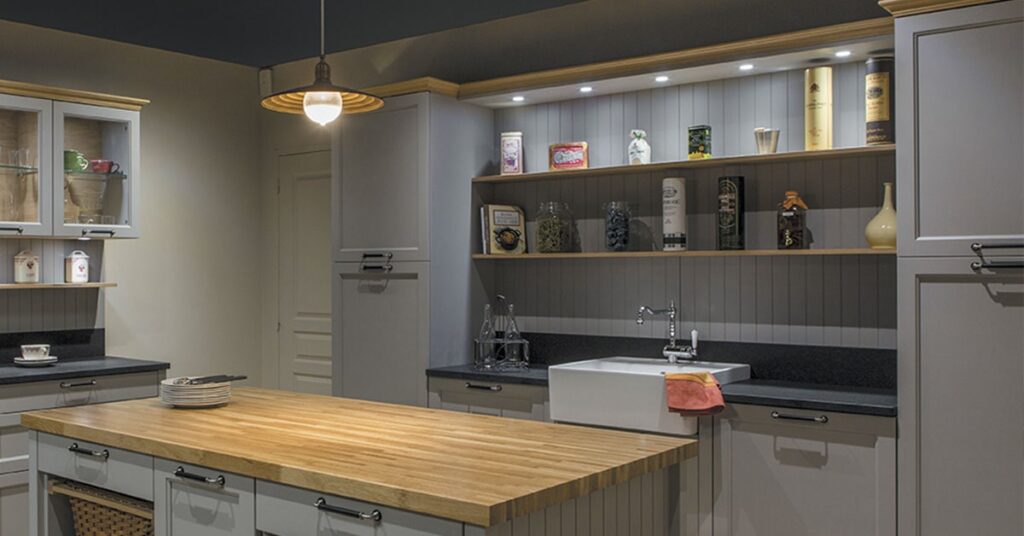 Spotlights are recommended if you need a lot of lighting for your kitchen counter. For example, your usual place for food preparation. You can think of the spotlight as the ultimate task light. At the same time, we recommend using natural light or cool white so you could see the 'true' color of your ingredients.    
Other than undercabinet light integrations, we also have LED lamps for base units or drawers. It also comes with IR sensors that trigger the on and off switch when opened or closed. The best part? It offers an Emotion Dual Color LED source which allows variations from natural to warm white! So no need to worry 'not seeing' your favorite pot.
5. Glass Shelves Lighting
Want a futuristic kitchen? Then, a glass shelf with LED lighting should be your go-to integration. Not only does it add a futuristic aesthetic to your cooking space, but it also adds a dramatic flair. Especially if you choose floating glass shelves matched with cool-toned lighting. Get ready for a kitchen that looks straight out from a sci-fi movie. 
You can think of under-mount lighting as another futuristic integration that will liven up your kitchen's aesthetics. This type of integration gives your kitchen counter a sci-fi flair. At the same time, you can utilize the lighting if you don't want to turn off your lights at night. You can just leave the under-mount lighting on, problem solved!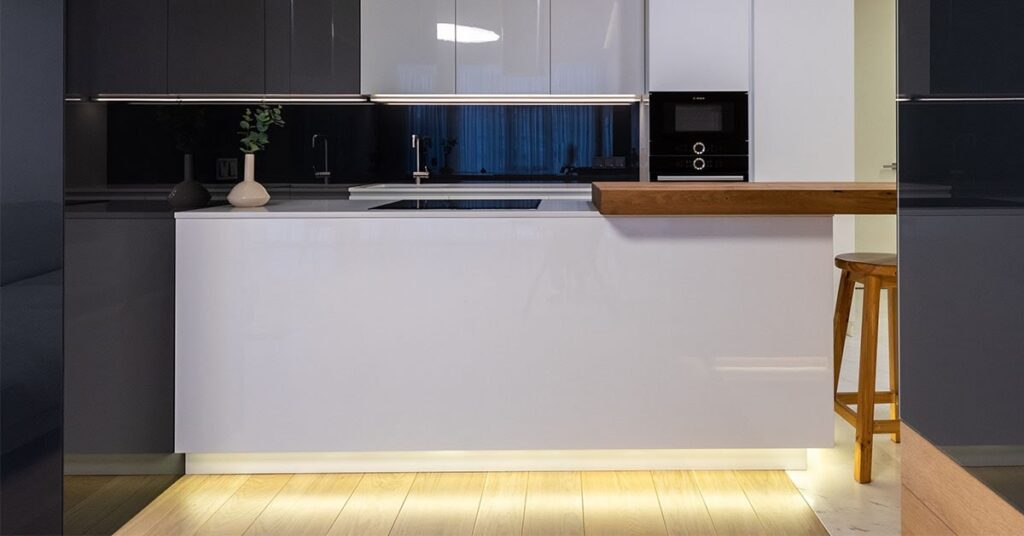 Plinth lighting will be the last integration on our list as well as the last futuristic lighting option to choose from. Compared to glass shelves or under-mount lighting, this integration creates a 'floating' illusion for your kitchen counters. It purely functions as an ambient light that adds depth to a room. It's a great go-to integration if you want to add some unique features to your kitchen.
"Lighting plays a huge role in changing a person's perception in a room. To set up your cooking mood, playing with different lighting temperatures, integration, and layout will do the trick."
Get Into Your 'Cooking Mood' with French Cabinetry
Want to upgrade your cooking space and incorporate unique kitchen lighting ideas? French Cabinetry can help you give your cooking space a whole new make-over. So if you're wondering which light integration works best for your sacred space, no need to look far. Whether you want your kitchen to look futuristic, cozy, or somewhere in between, we've got your back!
French Cabinetry houses tried and tested professional designers and installers ready to help with your kitchen renovation. Our designer will be present at every step to help you achieve the dream kitchen you're envisioning. 
This includes incorporating the type of ambiance you want your kitchen lighting to achieve. So leave all the technicalities to our vetted professionals. 
At French Cabinetry, aesthetics is our key feature. We aim to deliver a kitchen design that's the epitome of "fashion and function." On each project, we tailor our design to our client's preferences and needs. 
In the end, each accomplished design has unique layouts and designs. You can browse our projects here to inspire you.
As a longstanding business in the field, French Cabinetry has formed a trustworthy partnership with suppliers. So you don't have to worry, we'll provide carefully selected products that are best suited for your preference. Leave all the technicalities and product sourcing to us.
Why stop at kitchen lighting ideas? We offer the best materials not only in quality but also in terms of environmental awareness. So take this as an opportunity to upgrade the aesthetic, organization, and function of your kitchen.
In the meantime, check out trustworthy French Cabinetry reviews by valued clients here: 
Need a Specific Look? Consult with Us
If you need a hand to mix and match different kitchen lighting ideas, then we're here at your service. Schedule a FREE 1-hour consultation with us now so we can help with your kitchen lighting dilemmas. Need more than lighting integration? No problem, you can consult your design problems with us, even if it's more than a kitchen renovation. 
Let's dive into a more detailed conversation by scheduling a free consultation with us on the available time and dates. You may schedule to meet through the most convenient and comfortable platform for you.